Concerts in East Lothian
Find and buy tickets to every concert in UK. Pop, rock, classical, blues, jazz, and tens of other genres.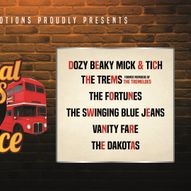 The Sensational 60s Experience
Music show featuring Mike Pender (original voice of the Searchers), The Trems, The Fortunes, The Swinging Blue Jeans and The Dakotas. Hits include 'Needles and Pins', 'Silence Is Golden', 'Storm In...